SS #670 Modifications:
Sway bars
---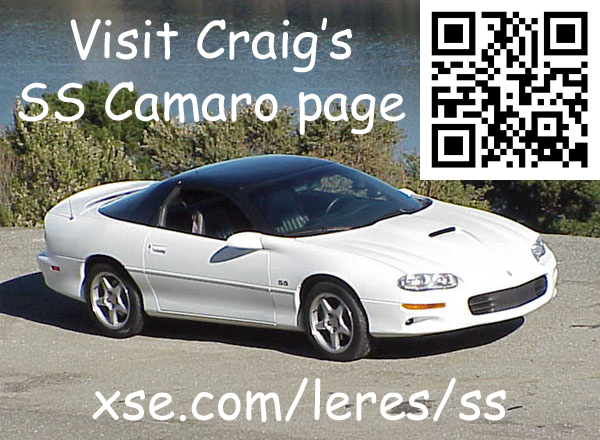 SS #670 came with 32 mm front and 19 mm rear sway bars from the factory. The front is tubular to save weight and the rear is solid.
| | |
| --- | --- |
| | |
| Front sway bar | Rear sway bar |
I upgraded to the Hotchkis 2204 sway bar set which uses 1 7/16" (36.5 mm) front and 1" (25.4 mm) rear tubular bars. It features Energy Suspension polyurethane bushings all around. The bars are powder coated black and have much smoother bends than the OEM bars. The new rear mounting hardware consists of heavy duty mounting platforms (which are also powder coated) and beefy 5/16" "U" bolts.
I've always preferred stiffer sway bars in my cars and the Hotchkis matched set works for me. The stiffer spring rate and polyurethane bushings cut body roll as expected and also greatly improve straight line stability; at freeway speeds, the car settles down much sooner after dodging small road debris.
The front sway bar is about 4.5 lbs heaver than stock (16 vs. 11.5 lbs). The rear sway bar weighs the same as the stock one (7 lbs) but the mounting hardware weighs 1 lb more.
Installation notes
The end link bolts (7") supplied by Hotchkis were a bit too long. I replaced them with Caterpillar 3/8-16 X 6.5" hardened bolts (7X-0300) and Nylock nuts (3K-6060).

The washers for the rear sway bar "D" bushings "U" bolts were wimpy. They deformed and didn't do a good job of holding the brackets. I replaced them with Caterpillar 3/8" hardened washers (8T-5360).

A few years after installing the Hotchkis bars, I broke the right front sway bar bracket (GM 10164141). Apparently this is a common problem people encounter after switching to heaver front sway bars.

If you don't lubricate the "D" bushings regularly, they will dry out and the polyurethane will gall and tend to bind. The symptom of this is when the sway bar needs to rotate (for example when stopping or launching) it will hang up and give a loud CLUNK when it breaks loose.

If this happens you can try removing, cleaning and re-greasing the "D" bushings. But if they're really wasted, order new ones from Hotchkis. Note that there are updated part numbers; Hotchkis says some customers were breaking the brackets with certain off-road truck applications using larger diameter sway bars. To address this, they switched all applications to use a new bracket with welded gussets.

The updated bushing part numbers are 5639.01 for the front and 5340G for the rear. However these are difficult to find except directly from Hotchkis so another option is the "rebuild kit" (2204RB).

The part number for the new "HD universal sway brackets" is 23090074.

They definitely look heavy duty.

A good lube to use is Bombardier XP-S Synthetic Grease (Sea-Doo 293550010).

It's a high performance, water resistant synthetic grease for marine applications and features a non-melting formula with PTFE (Teflon). It's available in 14 oz grease gun cartridges.

Here are link numbers in the rebuild kit (2204RB):

5639.01 1-7/16" HD "D" bushing (front)
9.8128G end link set (front)
5340G 1" "D" bushing (rear)
9.8125G end link set (rear)
9.11109 grease pack

Note that the hardware doesn't really wear out so it's cheaper to just buy the "D" and end link bushings.
---
Copyright © 2000, 2001, 2002, 2003, 2004, 2005, 2006, 2007, 2010, 2014, 2015, 2017, 2018, 2021, 2022, 2023
Craig Leres