SS #670 Modifications:
Springs
---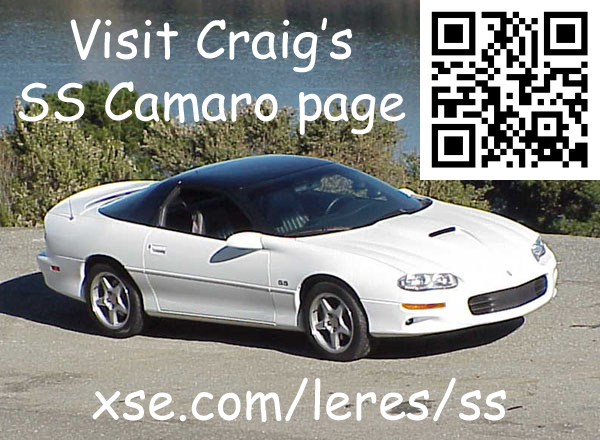 When I first installed a Spohn torque arm, I started having a lot of problems with torque arm cross member clearance. It seemed really easy to hit speed bumps. I talked to Steve and he explained that the Eibach springs that are part of the Bilstein Suspension package lower the car. This was certainly news to me. I called SLP and they denied any change in ride height. But I went to my dealer and measured all of the SS's they had; before I was done I could tell if a car had Eibachs simply by checking the rear ride height. All of them (including mine) were as much as 2" lower in the rear.
I had also upgraded my sway bars and found that the stiffer bars and the Eibach springs were a bit too much. The back end would tend to break loose without warning during hard cornering. Stiffer sway bars reduce body roll but they also increase spring rate on the loaded corner of the car. Putting (slightly) softer springs in seemed like the solution so I installed the 1LE/SS springs that would have been stock on an early production 2000 SS.
Application
Front
Rear
Rate
Part #
Rate
Part #
1998-2000 Z28
292 lb/in
GM 22077197
114 lb/in
GM 22077421
1998-1999 1LE
360 lb/in
GM 22132887
130-180 lb/in
GM 22132889
1998-2000 SS
1998-2000 Y2Y Bilstein
300-450 lb/in
SLP 70009
115-185 lb/in
SLP 70009
The 1LE/SS part numbers were only used on early production 2000 SS cars and are no longer available; late production received Z28 springs. The SLP Eibach spring are now sold as a front/rear set. And their webpage now notes they are up to lower 1" than stock.
I'm happy with my new setup. The car rolls slightly more in when cornering and it's easier to tell where the limit is. Now it handles more like a car and less like a go-cart.
---
Copyright © 2005, 2006, 2010, 2014, 2015, 2017, 2018, 2021, 2022, 2023
Craig Leres