SS #670 Modifications:
Heel/Toe throttle extension plate
---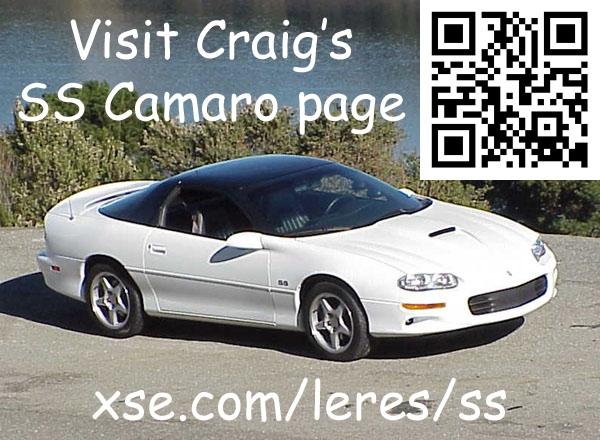 In late 2001, I visited the Bragg-Smith Advanced Driving school (now called the Spring Mountain Motorsports Ranch) as part of a group from the Super Sport Owners Association. I drove a pewter 2001 SS (#19) for three days in a level one class, learned a ton and had a blast. At the time, Bragg-Smith used completely stock SS Camaros and regular and Z06 C5 Corvettes. They made no suspension modifications and even used OEM tires and brake pads.

One of many things taught at Bragg-Smith is heal and toe downshifting. With the Camaro, the throttle blip is achieved by rolling your foot to the right; unfortunately, the throttle is a bit too far away. To make this process easier, Bragg-Smith pop rivets a metal plate to the throttle. This extends the left edge of the pedal about 1/2". When I got home, I immediately started work on a heel/toe throttle extension plate for SS #670.

| | |
| --- | --- |
| | |
| Bragg-Smith throttle extension plate | Craig's throttle extension plate |
Here are pictures of the throttle extension plate used at Bragg-Smith and the one I made for SS #670.
Fabrication Details
Note that installing a throttle extension plate makes it easier to unintentionally engage the throttle while braking; this modification isn't for everyone.
My plate is made from 1/8" ABS plastic from TAP Plastics. I started by creating a sheet metal template using foot operated shears. After converting my router (a Ryobi R160) into a mini-router table by mounting it to a sheet of 12 X 12" Lexan, I used a 1/4" flush trim bit to transfer my sheet metal template to a piece of 1/4" Plexiglas. An undersized scrap of 1/4" Plexiglas served as a spacer to avoid machining the template. I fastened a new accelerator pad (GM 10254530) and the spacer to the Plexiglas template (carefully lining up the edges) with a couple of long 10/32" screws. I rounded the corners of the template on the router table using the accelerator pad and some scrap pieces as guides.
| | |
| --- | --- |
| | |
| Sheet metal template | Final Plexiglas template |
Once I had a Plexiglas template with the desired shape, I used the flush trim bit to cut a piece of 1/8" ABS plastic. I finished the edges with a 1/16" radius round over bit.
I attached the plate to the accelerator pad using flat head (black oxide) 10/32" X 5/8" hex socket screws, stainless washers and Nylocks.
| | |
| --- | --- |
| | |
| Assembly detail | Mechanical drawing |
Here is the back side of the final assembly and a mechanical drawing. The spring is shown in its approximate location when attached to the pedal lever. The mechanical drawing shows the dimensions of the stock accelerator pad and those of my extension plate.
The F-Body accelerator pad is removed and installed without tools but it takes a little practice. The main trick is to unhook the spring from the pedal lever before removing the pin. (Reverse the process when installing.)
---
Copyright © 2002, 2003, 2004, 2005, 2006, 2007, 2010, 2015, 2017, 2018, 2021, 2022, 2023
Craig Leres