SS #670 Modifications:
Gauge pod
---
Here are the Auto Meter gauges I installed on the A pillar. I used an Auto Meter gauge pod (10210), 100-250° F electrical engine oil temperature gauge (2638) and 100-250° F electrical engine water temperature gauge (2635).
| | |
| --- | --- |
| | |
| Gauge pod | Oil temperature gauge |
I installed a red/yellow LED to the left of the water temperature gauge; the yellow LED indicates stage one fans, red stage two. There's a green LED to the left of the oil temperature gauge and a rotary switch to the right; position one shows oil temperature, two is differential temperature and three is transmission temperature. The LED lights when the switch is on positions two through six. Positions four, five and six are currently unused.
The Corvette's Driver Information Center can show engine oil temperature on its digital display. But that is not quite as nice as having a dedicated engine oil temperature gauge.
The F-Body has a dedicated water temperature gauge. Originally it was implemented with a dual output electric temperature sender that supplied separate temperature signals to the PCM and the instrument cluster. But starting in 1999, Chevrolet changed to a single output sender that only sends the temperature to the PCM; the instrument cluster receives its version of engine water temperature via serial data from the PCM. Some aspect of this new setup causes the temperature gauge to read 210° F for the entire 180-226° F range. It's effectively an idiot light. Since water temperature has a big effect on HP (as shown at the dyno), it's nice to have a working water temperature gauge.
On a cool day cruising on the freeway, I would typically see 180° F water and 210° F oil temperatures. On a hot day these would run more like 190° and 210° F. When "playing" water could get up to 220° F; oil temperature peaked at 250° F!
Later I installed an engine oil cooler. This brought my freeway cruising oil temperature down to 180° F and kept oil temperature typically less than water temperature.
Engine oil temperature sender
The sender for the Y-Body (Corvette) oil temperature gauge is mounted in an aluminum cover (GM 12551587) that is located directly above the oil filter. It has M12 X 1.5 threads that are not compatible with the Auto Meter sender's 1/8" pipe threads. However, the F-Body version of the cover (GM 12551595) is not machined and it's easy to drill it 21/64" and tap it 1/8" pipe.

It's also possible to use the Y-Body cover. You can drill it 7/16", tap it 1/4" pipe and mount the sender with a 1/4" to 1/8" pipe reducer (available at most hardware stores). However, the sender sits pretty high with this configuration.

It should not normally be necessary to replace the cover gasket (GM 12553210). It's a nice piece with a rubber molded to an aluminum flange.

Note that truck versions of the block optionally replace this cover with an external oil cooler assembly.
| | |
| --- | --- |
| | |
| Assembled unit | Installed assembly |
When installing the sender into the aluminum cover, use a sensor safe sealant and avoid over tightening as it's possible to split the cover with the pipe thread's ever-increasing thread. This isn't a problem on the Y-Body sender since its factory sender uses straight cut metric threads and a crush washer. Also, it's necessary to shorten the cover bolts a bit so that you can remove and reinstall them without having to move the catalytic converter (I was able to pry mine out the first time without hurting anything -- your mileage may vary).

Engine water temperature sender
Mounting the engine water temperature sender was quite an exercise. The stock LS1 water temperature sender is located in on the driver's side head near spark plug #1. The passenger side head has a plug in the corresponding location near spark plug #8. This is accessible from under the car and is a good place to install the aftermarket sender. The problem is the head uses the same M12 X 1.5 threads that the oil cover does. At the time, there was no off-the-shelf adapter and I didn't want to drill and tap the head, so it was necessary to fabricate an adapter.
| | |
| --- | --- |
| | |
| Assembled unit | Installed assembly |
We machined the adapter out of some 3/4" hex brass stock. We cut the threads with a die and tap from a local hardware store. I used a 1/2" copper crush washer originally intended for use as an oil drain plug washer.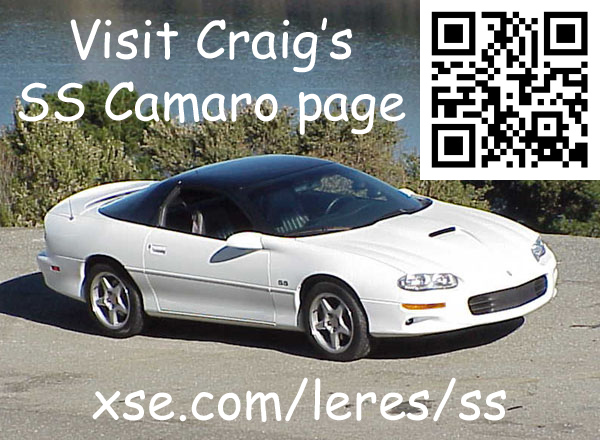 Water temp sender adapter
Here is a mechanical drawing in PDF format.
One buy-and-bolt-in solution I've found is the Equus oil pressure and electronic temperature metric adapter kit (6848) includes a M12 X 1.5 to 1/8" pipe adapter made from 5/8" hex brass stock and aluminum crush washers. I picked up a set from Auto Barn for $6 plus shipping. Unfortunately, at least two people have complained that they've broken these during installation.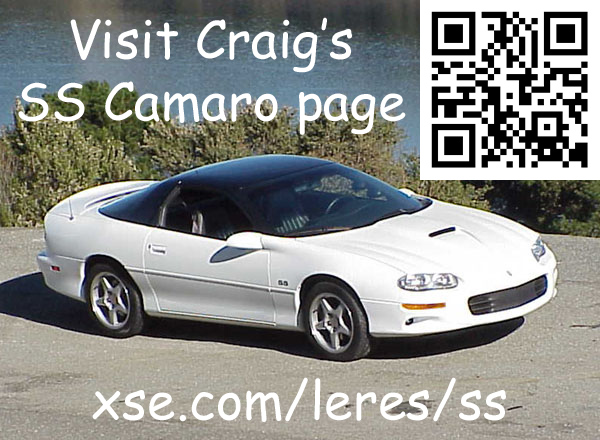 Equus sender adapter
ISSPRO Inc. manufactures a brass adapter (R7962) made from 5/8" hex brass stock. They come with an aluminum crush washer. I bought two of these from egauges.com for about $4 each plus shipping. One adapter was missing its aluminum crush washer and has a smaller diameter hole. The other one seemed nearly identical to the Equus adapter. I worry that quality control is not good with this product.
Europower Inc. (formerly Voss Inc.) manufactures a steel adapter (PM0412) make from 3/4" hex steel stock. Hydraulic Supply Company sells these as part C1DH30. I haven't seen one but they are probably a lot stronger than the various brass and aluminum adapters.
Morgan Motorsports has an aluminum version of the adapter (MMS8002) for $18. However, the hole in it is 5-6 thousands too small and so it requires modifying the Auto Meter sender to make it fit.
If you find other M12 X 1.5 to 1/8" pipe adapters or alternative solutions to the problem of installing aftermarket water and oil senders, please email me the details.
Differential temperature sender
When I rebuilt my rear end and was about to break in a new set of gears, I used the second input on the oil gauge for differential temperature. It would have been nice to mount the sensor in the drain hole of my TA Performance girdle but it was too close to the sway bar. Instead, I installed it in the differential fill plug using a 1/2" pipe thread drain plug with a brass 1/2" to 1/8" reducer with an Auto Meter replacement 250° F electric temperature sender (2258). The cylinder head temperature sender (2259) works too and is shorter.
Differential temperature sender
While driving, differential temperature slowly works its way up to 180° F.
Transmission temperature sender
The third input on the oil gauge is used for transmission temperature. I have the MM6 manual six-speed transmission and it was a simple matter to replace the 1/2" pipe thread drain plug with a brass 1/2" to 1/8" reducer with an Auto Meter replacement 250° F electric temperature sender (2258).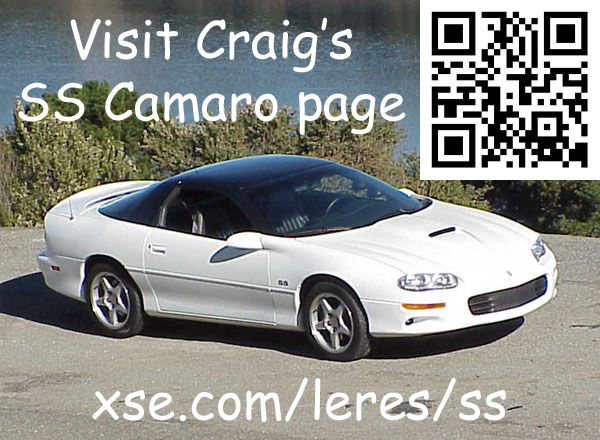 Transmission temperature sender
Transmission temperature stays close to 100° F. The highest I've seen it is 180° F (this was after hours of driving).
Electrical hookup
Disconnect the negative terminal of the battery while working on electrical circuits to avoid potentially damaging shorts and possible personal injury.
I wired the hot side of the engine oil temperature gauge to the +12 volt "GAUGES" circuit on the fuse block (fuse 9). I picked up sender ground from the place where the engine grounding strap ties to the chassis on the driver side. I used convoluted tubing to run the wires from the sender around the front of the radiator and through the firewall past the factory grommet near the PCM.
| | |
| --- | --- |
| | |
| SS #670 wiring schematic | Fuse usage chart |
Here is a schematic in PDF format that includes the shiftlight wiring.
On a 2000 Camaro, the cooling fan circuits (335 and 473) go from the PCM to connector C100. I think is a better place to tap in than messing with the PCM connector.
C100 is a ten pin weatherpack connector and is the forward of three connectors located on top of the passenger side wheel well. The relay 1 wire is dark green and is on pin "J". The relay 2+3 wire is dark blue and is on pin "H".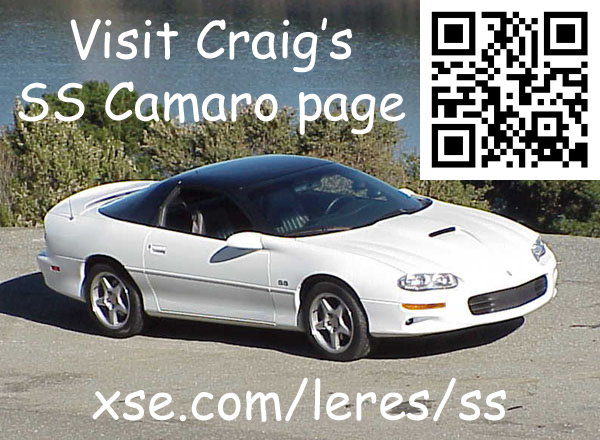 connector C100
A slick way of adding a connection without cutting wires is to disassemble the connector, carefully remove the pin and solder the new wire it and reassemble.
I wired the gauge lights to the +12 volt "IP DIMMER" circuit on the fuse block (fuse 16). I got ground from a convenient sheet metal screw under the dash.
I gained access to the back of the fuse panel by removing the bottom screw and rotating the top down, out and then 90 degrees down. There's enough slack in the wires to allow the new circuits to be soldered in.
Here's a trick you can use to determine which side of the fuse to wire to. Insert a burned out fuse and use a multimeter or test lamp to find out which side is hot. The other side is the fused side (and the one you want to wire your new circuit to).
| | |
| --- | --- |
| | |
| Gauge pod assembly | Oil gauge detail |
The rotary switch I used is a NKK MRK206A. It's very small and has nice action. The knob is an Alcoswitch KFS400B1/8 and is aluminum with a black finish. These were about $18 (plus shipping) from mouser.com. I wired the gauges and gauge lamps to multipin connectors (including some Molex .062" style) which made final assembly easier.
| | |
| --- | --- |
| | |
| LED circuit detail | Connector detail |
The red/yellow LED I used for fan status is a Lumex SSL-LX3059IY (less than $1 each at digikey.com). Since it is a common cathode device, it was necessary to use transistors to drive the two colors. I wired up the circuit on a small breadboard and piggy backed this on back of the water temperature gauge.
---
Prior to the version that uses the rotary switch with the oil temperature gauge, I used an alternate action push button switch to change between oil and some secondary temperature sender. The green LED was used to indicate the secondary input was in use.
Here is a schematic that shows the wiring for the old setup.
Vacuum gauge
For about six months, I had a 0-30 in/Hg mechanical vacuum gauge (2610) instead of the 100°-250° F electrical engine water temperature gauge (2635). I hooked the vacuum tube to the fuel purge canister solenoid input using the supplied brass "T" and a short piece of rubber vacuum hose.

On a cold engine start, it would usually read 19 inches. After the engine warmed up a little and the idle dropped down, it would go up to 21 inches.
---
Copyright © 1999, 2000, 2001, 2002, 2003, 2004, 2005, 2006, 2010, 2013, 2015, 2016, 2017, 2018, 2021, 2022, 2023
Craig Leres