SS #670 Modifications:
Radiator
---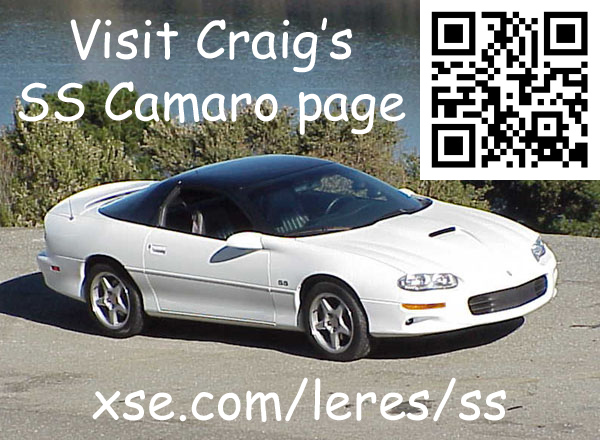 I've always thought the factory radiator was just barely adequate. One 90° day on the track at Buttonwillow, CA, my oil and water temperatures ran 225°. Of course this was shortly after installing an engine oil cooler or else my oil temperature would have been ridiculous.
Ultimately I decided to use the SLP high-capacity radiator (52467). Note: SLP has discontinued this part. The original label was blacked out but I was able to read enough of the GM part number to verify this is a radiator for the 1993-1996 5.7 automatic/manual transmission F-Body (GM 52466004). SLP adapted it for use with the LS1 cooling system by epoxying shut two unused tank fittings and then covering them with vinyl caps. Radiator core thickness on LS1 F-Body cars is 15/16". The 1993-1996 LT1 radiator is 1-3/8" making it 47% thicker.
Here's a chart that shows all of the radiators used with 4th generation F-Body cars. From 1993 through 1997 one part number is used for automatic and manual transmission applications. Starting in 1998 there are separate versions for the automatic and manual. Overall there's been a general trend towards thinner cores.
| Year | Application | Core | GM | Delco | Delphi |
| --- | --- | --- | --- | --- | --- |
| 1993-1996 | 5.7 man/auto | 1.375" | 52466004 | 20700 | RA1081 |
| 1997 | 5.7 man/auto | 1.000" | 52472602 | 20883 | |
| 1998-1999 | 5.7 man | 0.937" | 52471356 | 20924 | |
| 1998-1999 | 5.7 auto | 0.937" | 52471357 | 20925 | RA1114 |
| 2000-2002 | 5.7 man | 0.937" | 52487149 | 21344 | RA20058 |
| 2000-2002 | 5.7 auto | 0.937" | 52487150 | 21345 | RA20059 |
It might be possible to build a radiator with an even thicker core from parts. The inlet and outlet tanks and tank gaskets appear to be available as new parts so that hard part would be to find a core that was thicker while maintaining the same width, height and plate dimensions.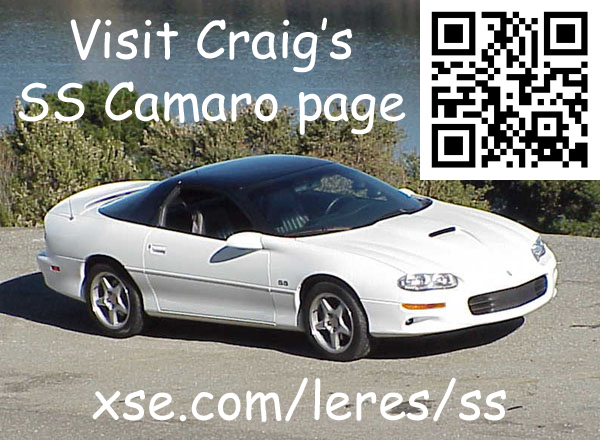 Coolant
I filled my system with a 50/50 mix of AC/Delco Dexcool distilled water and topped off with a bottle of Red Line WaterWetter®.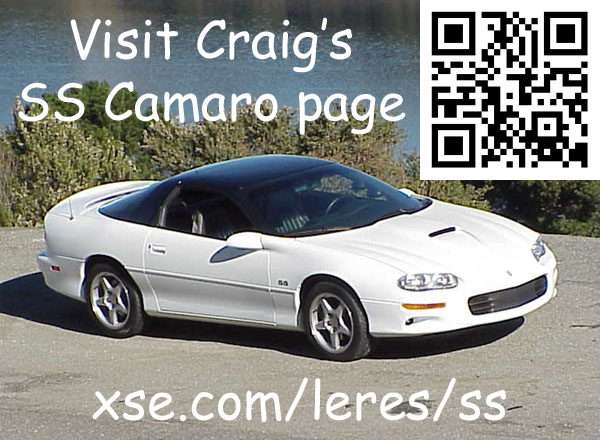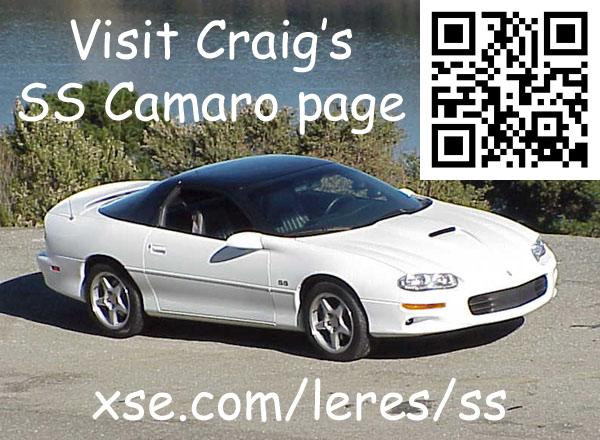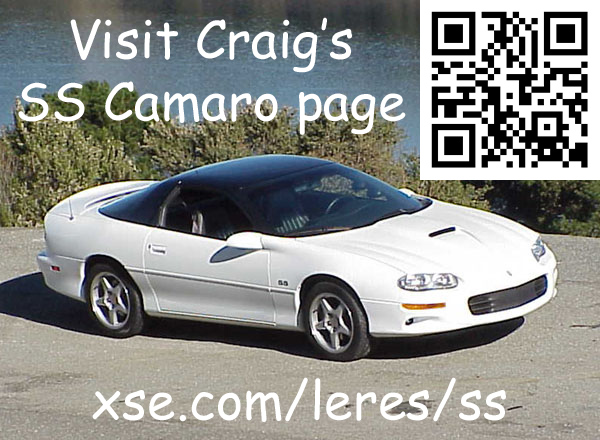 Installation notes
Since the new radiator is stock size, there are absolutely no fitment issues.

I used an UView Airlift cooling system refill kit (#5550000) to refill my cooling system. It uses compressed air to evacuate the system and then just open a valve and it sucks the coolant mix out of a bucket. This is how the factory fills cooling systems on new cars and when used properly, there's no air trapped in the system.

Here are the SLP installation instructions.
---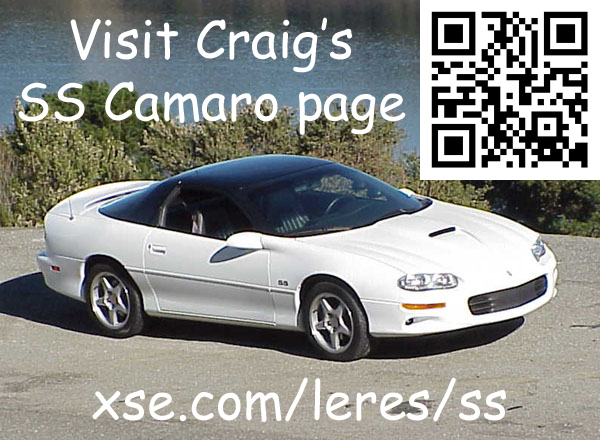 In 2003, LG Motorsports introduced the G2-Super Cool radiator (G2-SCR-FM). It's a TIG welded, all aluminum piece that is manufactured for them by Howe Racing Enterprises.
The radiator was rated to 700 HP, about double the factory aluminum and plastic part. More than just a custom sized radiator, the G2-Super Cool had tabs to hold the fan shroud assembly, bottom mounting peg and other special touches. It's clear a lot of work went into making it fit into the Camaro engine bay.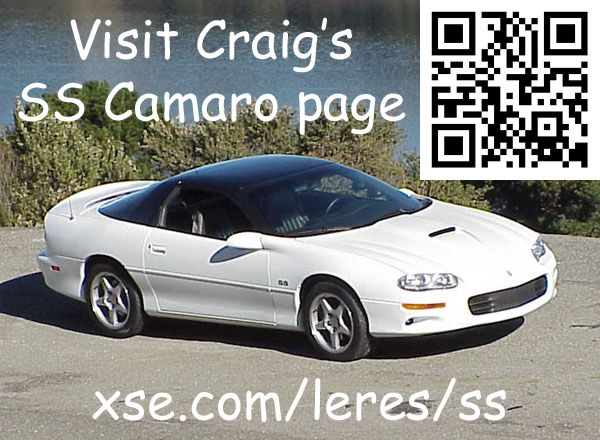 I'd wanted a bigger radiator for some time but was holding out for a built in oil cooler. The G2-Super Cool utilizes a Howe heat exchanger. They make them in two sizes; 10-1/4" and 12-1/2" (measured center-to-center). The G2-Super Cool uses the larger unit.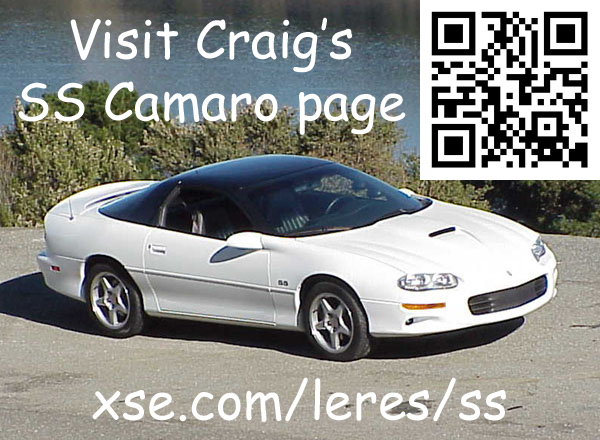 The radiator definitely did a good job. During a visit to the track at Buttonwillow my water stayed down around 190°! However oil temperature was up at 225° which makes me believe the heat exchanger isn't quite big enough. As a result, I went back to using my external oil cooler setup. It's too bad there wasn't room in the radiator tank for a larger heat exchanger as this style setup does not need a separate oil thermostat and has much simpler plumbing. And in theory, the radiator based heat exchanger should heat the engine oil during warm up from a cold start. But in practice, this effect appeared to be small.
Fittings
I wanted to stick with aluminum fittings for the overflow and throttle body outlet but couldn't find any. Both the throttle body outlet and overflow hoses are 3/8" ID. I also wanted the OEM style beaded hose barbs so I could reuse the factory hose clamps. Eventually I found some chromed brass fittings at a local speed shop:
1/4" NPT to 3/8 hose barb
1/8" NPT to 3/8 hose barb
I used 1/2" pipe to -10 AN fittings (Parker 10-FTX) to interface to the heat exchanger. More oil line details can be found on my engine oil cooler page.
Drain cock
For a drain cock, I used a nice little brass part I got from my local speed shop. It looks the same as a Be Cool 72025.
Installation notes
The G2-Super Cool holds a lot more coolant than the factory radiator.

The radiator and fan shroud assembly won't really come out of the car unless you remove the A/C accumulator from its bracket.

The radiator rests on a rubber donut on one side and a rubber pad on the other. I took about 1/4" off the pad. The goal is to remove enough material so that you end up with the radiator level when it's rest on the donut and pad.

I cut the upper rubber radiator pads flat.

The fan shroud was pretty easy to modify. I used a 1" rotary saw blade with my Dremel and made a number of straight cuts.

Modifying the airbox assembly is a bit of work. You basically have to open up the radiator area to about 3". This involves cutting some of the structure out of the airbox assembly.

The angles are funny but I just kept test fitting it and hacking away until it fit. Finally, I trimmed some material off the entire back side of the airbox assembly where it touches the fan shroud.

I needed to tweak the lower A/C condenser pipe near the drain cock just a bit so it wouldn't rub on the fan shroud and radiator.

I reused the factory radiator hose clamps. My OTC 4502 hose clamp pliers set was especially handy in dealing with these.

It's probably not possible to remove the fan shroud from the radiator without removing the lower oil cooler line fitting.

My hydraulic hose guy told me to use Loctite 545 pneumatic thread sealant for the NPT fittings. He definitely warned against using Teflon tape with Parker fittings. They have rolled threads and Teflon reduces friction and allows you to over tighten the coupling and split the female side.

Most common plumbing fittings have cut threads and Teflon tape is fine for them.

Don't use sealant with AN fittings. The proper procedure (according to a Parker publication no longer available on the web) is to tighten -10 fittings (JIC 37° flare) to 1 flat from finger tight (i.e. an additional 60°).

Having some Aeroquip AN dust plugs (FBM-3658) and dust caps (FBM-3651) can be handy will reconfiguring oil lines.

Since the G2-Super Cool is a lot thicker than the factory radiator, the fans move a bit closer to the engine. But I didn't see any obvious problems with moving parts.

The G2-Super Cool weighs about 16 lbs. The OEM unit is only about 8 lbs.
---
Copyright © 2003, 2004, 2005, 2006, 2007, 2010, 2015, 2017, 2018, 2021, 2022, 2023
Craig Leres