---
Note: After 17 years of fun I sold my SS Camaro in June of 2017.
This is my obligatory Chevrolet Camaro SS page.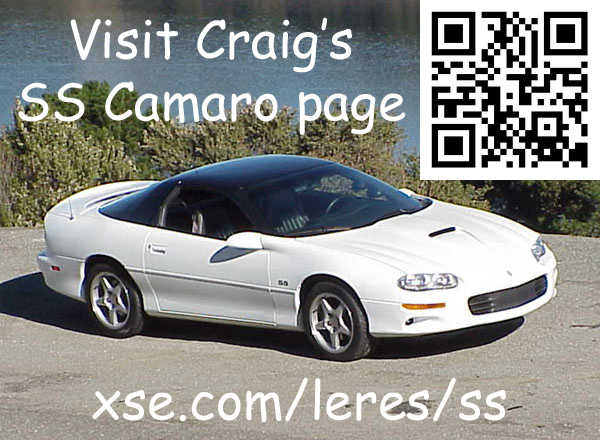 My SS is a 2000. It was built on August 23rd, 1999 in Ste. Therese, Quebec, Canada. It was the 670th SS out of 8912 built. It's Arctic white hardtop with Ebony leather interior.
Here's a picture of SS #670 near San Pablo Reservoir.
I had been looking for a new car for a number of years. But I wanted more than a replacement for my daily driver, a 1989 Chevrolet Beretta GT; I wanted a significant upgrade. A manual transmission and lots of power were on my non-negotiable list. I was intrigued by the Corvette powertrain of the LT1 Camaro but never liked the depressed headlights. When Chevrolet gave the front clip a face lift in 1998 I decided I wanted one. The new LS1 motor was an unexpected bonus! Its best dyno pull was 308.8 HP / 321.6 ft-lbs (corrected). My best 1/4 mile run so far was 13.54 seconds @ 104.59 MPH.

My SS is fully loaded. I didn't get T-Tops because they're heavy and allow more body flex. I also didn't get the SLP chrome wheels; I wasn't too hot for the 2000 SS wheels either so instead I bought some Corvette ZR1 style five-spoke SLP take-off wheels. Here are the options I did get:
| Description | RPO |
| --- | --- |
| Z28 Coupe | 1FP97 |
| SS Performance/Appearance | WU8 |
| Preferred Equipment Group | 1SD |
| 6-Speed Manual Transmission | MN6 |
| Leather Trimmed Seats | AR9 |
| Hurst Short Throw Shifter * | BBS |
| Rear Window Defogger | C49 |
| Monsoon AM/FM with CD | UN0 |

| Description | RPO |
| --- | --- |
| Auburn Differential * | 10147 |
| SLP Dual-Dual Exhaust | 10190 |
| Bilstein Suspension * | 10255 |
| Premium Front Floor Mats | 10149 |
| SS Key Frobs and Dash Plaque | 10151 |
* Over time I've upgraded some of the factory options. I swapped the factory Hurst short throw shifter for the Hurst billet plus. After my Auburn differential wore out, I installed a Torsen T-2R Racemaster. Finally, I've replaced all of the components of the Bilstein Suspension package. The new parts include Koni dual adjustable shocks, BMR lower control arms, BMR panhard bar and 1LE/SS front/rear springs (GM 22132887/22132889).
In addition, I've installed the SLP OEM airbox lid. This is one half of SLP's High Flow Induction System which was an upfit option on the 2002 SS. The other half is the SLP dual-dual exhaust option.
Note well: The author assumes no responsibility, legal or otherwise, that might result from applying any of the information found here.
---
Table of contents:
---
Copyright © 1999, 2000, 2001, 2002, 2003, 2004, 2005, 2006, 2010, 2015, 2017, 2018, 2021, 2022, 2023
Craig Leres