SS #670 Modifications:
Driveshaft safety loop
---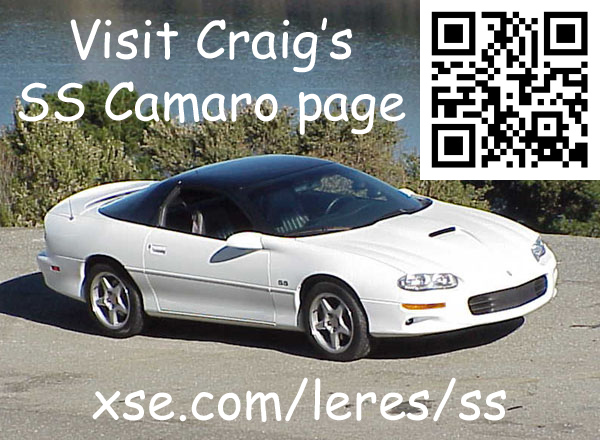 There are a lot of driveshaft safety loops available; I liked the looks of the SLP unit (65050). It's NHRA legal and made from 1/4" material. It has a black crinkle finish (unlike the picture on their webpage which seems to be black gloss). The loop itself is elongated; it's about 4-5/8" wide and 5-3/8" high. This allows the driveshaft to move up and down with the rear end while avoiding the inevitable side clearance issues. It also means there are no clearance issues created by subframe connectors.
| | |
| --- | --- |
| | |
| Safety loop | Installed |
Installation notes
The combination of my Kenny Brown subframe connectors and the safety loop bracket is too thick for the stock bolts. I was able to find M8 X 1.25 X 30mm bolts at Bowlin Bolt in Berkeley, California.

The holes in the safety loop bracket are so big I had to use large, thick black washers. The holes allow the loop to move from side to side quite a bit so it's important to center it before tightening the bolts.

It's possible to raise the loop by changing the angles on the lower brace. This is a clever design feature I used to adjust for the thickness of my subframe connectors. I noticed that the exhaust would touch especially under hard acceleration and hard right turns. I loosened the bolts and used a board and a bottle jack to raise the loop until it was about 1/2" above the exhaust. Then I supported the rear of the car from the frame and let the rear end drop all the way down to make sure that the drive shaft (and weight!) didn't touch the bottom of the loop.

Even after adjusting the position of the loop, I still had a vibration in powered right turns. I decided to replace the transmission mount (GM 22174970). The old one had separated and there were shiny marks on the opposing pieces.

Installing the new mount eliminated the vibration.

Here are the SLP installation instructions.
---
Copyright © 2004, 2005, 2006, 2010, 2015, 2017, 2018, 2021, 2022, 2023
Craig Leres