SS #670 Modifications:
Polyurethane bushings
---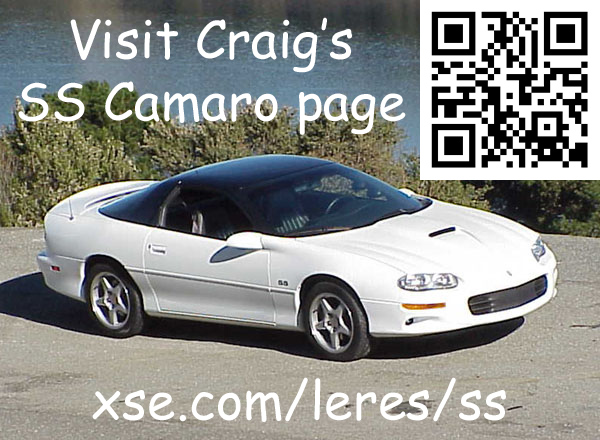 Control arm bushings
At about 60K miles, the handling of SS #670 got twitchy. It was worst on rough roads and required a lot of attention to drive. My theory was that my zero toe alignment combined with worn out front control arm bushings were allowing the front end to toe out a little. I had been very happy with a bushing kit I had installed on a previous vehicle so I decided to do that.
The main brands with applications for my SS are Energy Suspension and Prothane. Their products are very similar and I originally bought the Prothane 7-227-BL kit.
About a eight months after installation, my front end developed some pretty loud squeaks. I wasn't sure if this was a characteristic of Prothane or if I failed to grease everything I was supposed to. Ultimately I decided to change out the bushings for an Energy Suspension 3.3164G kit.
In the process of installing the new bushings, I noticed that the old upper control arms were very difficult to rotate. The new upper bushings were not nearly as tight as on the metal spacer. I suspect most or all of the grease had been pushed out during installation of the original bushings and that's why they started making noise.
The big thing to keep in mind with this kind of upgrade is that although the parts are not expensive, the install is a lot of work. And since you must to remove all four control arms, you'll need a front end alignment when you're done.
But the biggest hassle is to reuse the bushing shells, you must remove the original rubber bushings. There's just no straightforward way to do this. In some cases you can heat the shell with a propane torch and press them out. The kit instructions suggest burning them out but in practice this just makes a lot of black smoke and a lot of black goo. Heat also damages paint on the control arms.
When I got to the driver's side lower control arm, I discovered that the original caster bushing was split. I was pretty happy when I found this because it easily explained my handling issue.
| | |
| --- | --- |
| | |
| Split lower control arm bushing | New upper control arm bushing |
Compared to all the work that goes into removing the old rubber bushings, installing the new polyurethane bushings is easy. You butter the surfaces up with the supplied Teflon grease and press them together with a vise or C clamp.
Other bushings
The sway bars I installed came with Energy Suspension bushings all around including greaseable "D" bushings and endlinks with the 2 3/8" spacer (9.8125G).
My lower control arms and panhard bar also feature polyurethane bushings.
---
My Previous Setup
Before upgrading the sway bars, I upgraded the "D" bushings in the factory sway bar Energy Suspension polyurethane bushings.
Front sway bar "D" bushings (32mm bushings only: 3.5162G)
Rear sway bar "D" bushings (19mm bushings and brackets: 9.5106G)
This resulted in a subtle but nice improvement.
---
Copyright © 1999, 2000, 2001, 2002, 2003, 2004, 2005, 2006, 2007, 2010, 2014, 2015, 2017, 2018, 2021, 2022, 2023
Craig Leres