>
WHT Z06 Mods:
Fire Extinguisher
---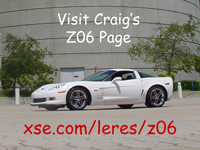 I've always liked to carry a fire extinguisher in my vehicles. Vetteworks makes a nice bracket (model C605) that attaches to the passenger seat rails. It accepts an Amerex 385TS fire extinguisher which uses Halotron 1 and weighs 2.5 lbs.
Installed
Chevrolet used Vetteworks fire extinguisher brackets in the 2006 C6 Z06 Brickyard 400 and Indy 500 Corvette pace cars.
Unlike Halon, Halotron 1 is an environmentally friendly clean agent that does not leave residue.
I never realized how rattle free my Z06 was until I installed the fire extinguisher. The pin and lever both made a lot of noise until I quieted them with a piece of foam and a velcro cable wrap.
---
Copyright © 2008, 2009, 2010, 2015
Craig Leres